#47 - Organization & Jamaican Power Bombing
George Blaha talks about: How he needs to get organized and about the famous Jamaican dance called daggering
a year ago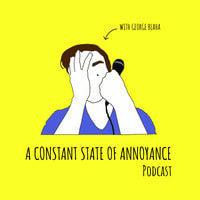 Episode Notes
In this episode I do some self reflection about how I've been bullshitting my self for the past month. I've been in a procrastination daze and i'm finally conscious about it. I've been wasting away my hours on this planet staring at a shinny rectangle watching things that bring nothing into my life. But it hasn't all gone to waste, I've discovered this whole culture of Jamaican music called dance hall where a power bomb is considered a dance move and I talk about how amazing it is.
Follow the Podcast on Facebook: here
Follow the Podcast on Instagram: @acsoapodcast
Follow George Blaha on Instagram: @george_blaha
Find out more at https://a-constant-state-of-annoyance.pinecast.co
This podcast is powered by Pinecast.