#66 - The horniest guy I've ever met
George Blaha talks about: The horniest guy he's ever met, people who own guns and airing the boys out.
a year ago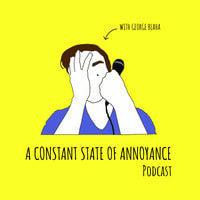 Episode Notes
I thought that nobody would top the horniness of the people that I met at age 14, boy was I wrong. A couple of nights ago I hung out with the most vocally horny adult(or human) I have ever met. The best part was that he is a sweet heart of a person it's just that his hormones just make him say impressively dirty things once in a while. I talk about my new hormonally unbalanced friend. I then go into why owning a gun is a weird investment. And finally talk about then talk about if the testicles should be aired out while you pee.
Follow the Podcast on Facebook: here
Follow the Podcast on Instagram: @acsoapodcast
Follow George Blaha on Instagram: @george_blaha
Find out more at https://a-constant-state-of-annoyance.pinecast.co