#60 - Who are you barking at?
George Blaha talks about: Random Boners at the work place and crazy employers
a year ago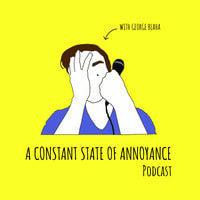 Episode Notes
I think my weewee is conspiring against me, or is it trying to do me a favor? Lately I've been getting most the random public boners and I don't get it. Are constant random boners a sign that I have too much blood? should I go and donate? I go into how I hate my job but haven't done anything because I've become a little bit too comfortable in mediocrity. I also talk about how crazy my ex-employer was and how tame and normal my current one is.
Follow the Podcast on Facebook: here
Follow the Podcast on Instagram: @acsoapodcast
Follow George Blaha on Instagram: @george_blaha
Find out more at https://a-constant-state-of-annoyance.pinecast.co