#50 - Immune to germs but allergic to bananas
George Blaha goes on a rant about: buffing up the immune system & the struggles of a teacher
a year ago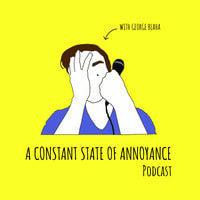 Episode Notes
I start up this episode by going on a weird rant about people who wont let you wear shoes in their house and how they should get better immune systems, then I speculate about different ways to boost your immune system. After that I talk about a news story of a teacher that was almost killed for being allergic to bananas. Then I talk about the teachers struggle and how puberty makes you blind and ungrateful about your teachers.
Follow the Podcast on Facebook: here
Follow the Podcast on Instagram: @acsoapodcast
Follow George Blaha on Instagram: @george_blaha
Find out more at https://a-constant-state-of-annoyance.pinecast.co
This podcast is powered by Pinecast.