#56 - Prison is some peoples retirement plan.
George Blaha talks about: Becoming an audio book reader and a faulty retirement plan
a year ago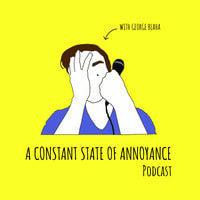 Episode Notes
In this episode I talk about the pros and cons of having a soothing voice. I do a test read, I read a bit of fifty shades of grey to see if I can become an erotic audio book reader(you don't even have to listen to the podcast to know the results). I finish the episode by giving my opinion over the Frabutt case(if you don't know about the Frabutt case you should be ashamed) and why I think that Victoria Thomas Frabutt did it!
Follow the Podcast on Facebook: here
Follow the Podcast on Instagram: @acsoapodcast
Follow George Blaha on Instagram: @george_blaha
Find out more at https://a-constant-state-of-annoyance.pinecast.co