#45 - Credit card slave over fashion
George Blaha talks about: Fahion, pregnant women on tinder & the word shampoo
a year ago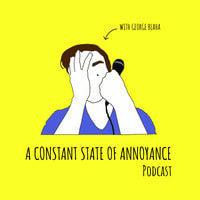 Episode Notes
In this episode I talk about the ridiculousness of a forty dollar T-shirt, how I'm not willing to "feel my best" with a $40 piece of fabric around my torso. I also talk about the struggle of being a pregnant woman on tinder and I go on a weird rant about the word shampoo.
Follow the Podcast on Facebook: here
Follow the Podcast on Instagram: @acsoapodcast
Follow George Blaha on Instagram: @george_blaha
Find out more at https://a-constant-state-of-annoyance.pinecast.co
This podcast is powered by Pinecast.