#48 - Spotify loves lying to the poor and meditation
George Blaha talks about: Spotify, the benefits of meditation and the Puerto Rican alphabet
a year ago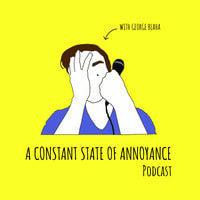 Episode Notes
In this episode I questioned if rice krispies had rice and then try to convince myself that I'm smart. I rant about the poor peoples experience on Spotify and their adds. Recently I started meditating and I talk about the benefits of meditation. Finally I rant about how annoying the Puerto Rican alphabet is.
Follow the Podcast on Facebook: here
Follow the Podcast on Instagram: @acsoapodcast
Follow George Blaha on Instagram: @george_blaha
Find out more at https://a-constant-state-of-annoyance.pinecast.co
This podcast is powered by Pinecast.