#46 - I miss treating bees like bugs
George Blaha talks about: Treating bees like gods, Puerto Rican wild life and getting thicker skin
a year ago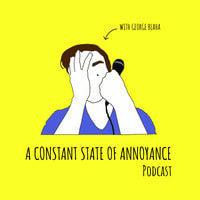 Episode Notes
I really miss being able to kill bees, I feel super uncomfortable trying to save a bug. Sadly it is what it is. In this episode I talk about how annoying bee's are and why honey is overrated. I talk about how non threatening the wild life is in Puerto Rico and I go on a rant about the importance of covering all of your bases and not letting basic insults ACTUALLY hurt your feelings.
Follow the Podcast on Facebook: here
Follow the Podcast on Instagram: @acsoapodcast
Follow George Blaha on Instagram: @george_blaha
Find out more at https://a-constant-state-of-annoyance.pinecast.co
This podcast is powered by Pinecast.