#49 - The governor that almost became a lizard person
George Blaha talks about: RIcky gate and the unimaginable anxiety the PR governor has to be going through
a year ago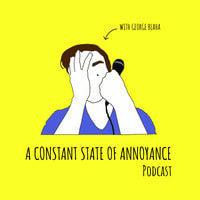 Episode Notes
In this episode I talk about Ricky gate and how I couldn't manage to be in his shoes. I take a look inwards and realize that I don't have the emotional aptitude to lead a country of people that hate me. Finally I talk about reptilians and how you should shut up if you're doing a bad job.
Follow the Podcast on Facebook: here
Follow the Podcast on Instagram: @acsoapodcast
Follow George Blaha on Instagram: @george_blaha
Find out more at https://a-constant-state-of-annoyance.pinecast.co
This podcast is powered by Pinecast.