#70 - Rumbling with a Croc wearing pedo
George Blaha talks about: Puertorcan pedophiles, Croc wearing criminals and his night at a radio station Christmas party.
a year ago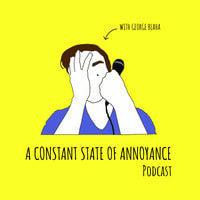 Episode Notes
In this episode I talk about how I thought I was going to get robbed by a Croc wearing pedophiles in a supermarket parking lot. I discuss what it means to own a motorized scooter in Puerto Rico and the stereotype behind it. I'm an easily impressed person because i'm poor and a friend got me into a radio station Christmas party, I go into my experience and how I went on a gluttonous extravaganza at this Christmas party.
Follow the Podcast on Facebook: here
Follow the Podcast on Instagram: @acsoapodcast
Follow George Blaha on Instagram: @george_blaha
Find out more at https://a-constant-state-of-annoyance.pinecast.co